Also powered by the Human Elephant Foundation
After scientist, He Jiankui, was sentenced to 3-years in jail for his experimentation with germline gene editing, academics and scientists say a call to open an international debate on somatic and germline gene editing has to be considered. The issue of ethics in any human endeavour will always be called into question – and should. It is however, a concern that while there are many ethical and other questions that lie beneath the surface of what constitutes 'human endeavour' and growth, these often go unchecked. Take for instance the plastics industry that continues to produce tonnes of plastic (since 1856) knowing full well the implications on human and environmental health, well-being and more accurately, our ultimate survival. To continue to produce a substance that is known to pollute our world beyond measure and not provide solutions for its ability to decompose is highly unethical. We know for instance that less than 10% of what is produced is actually recycled; with 359 million metric tonnes produced in 2018 alone… All of the plastic produced since its first iteration has not biodegraded yet and neither will it for the next 500 – 1000 years. Who takes responsibility? It's not the fault of the 'ordinary' person, though we all bear some measure of collective responsibility. This installation, however is not about recycling or gene editing. Its focus goes much deeper …
Within this context and the constant narrative to transform how we have shaped humanity and its future, the Dreams as R-evolution 9-month art installation , in a plant nursery (Westville campus, UKZN), continues its investigation into the possibility of an 'evolved' human being. Is it possible to imagine a different humanity – beyond the Colonial, Apartheid, Capitalist, Patriarchal and 'ism' mind? Is it possible to transform ourselves proactively or do we rely on pressure from external elements? (unprecedented natural phenomena as a result of global warming, pandemics, extreme poverty as a result of war, greed and power struggles to access resources, for instance) Who decides? Are you able to manage your own transformation? And to transform …from what to what? All of these question reverberate through this time and through this 'dreams' space.
This installation set in an unprecedented space – a plant nursery – and developed during a 9-month gestation period through sun, rain, wind, storms and student strikes – investigates this theme further.
Dreams as R-evolution demonstrates and questions our ability to recreate a society beyond colonial influence; one that affirms 'the voiceless' and provides opportunity for re-framing; re-invention; re-visioning with the view to positive transitions that is respectful of multiple knowledges, genders, cultural identities and ways of being.
This Dreams as R-evolution Collection takes you on a journey of discovery as the artist dreams and presents scenarios of being beyond the colonial and beyond the conditioning towards the unknown and known heritage; through dreaming or visioning its possibility. It becomes a form of re-framing, through a body of artwork, exploring these ideas while travelling through the dream-in-the-making and re-coding the body of work visually as an 'open' language of symbol, metaphor, imagination and re-representation. The artist's interest in the overlapping yet interconnecting concepts of dreams as r-evolution also stem from her multiple conversations with the 'man on the street' who are (perhaps), themselves asking the same questions, differently.
The context, a plant nursery is the space which transforms itself as (I )transform. It does not have real walls, doors, or a roof…nothing to lock up or shelter under while the work evolves, totally open to the elements, animals, insects and people that navigate the space. Uncensored. Unpredictable.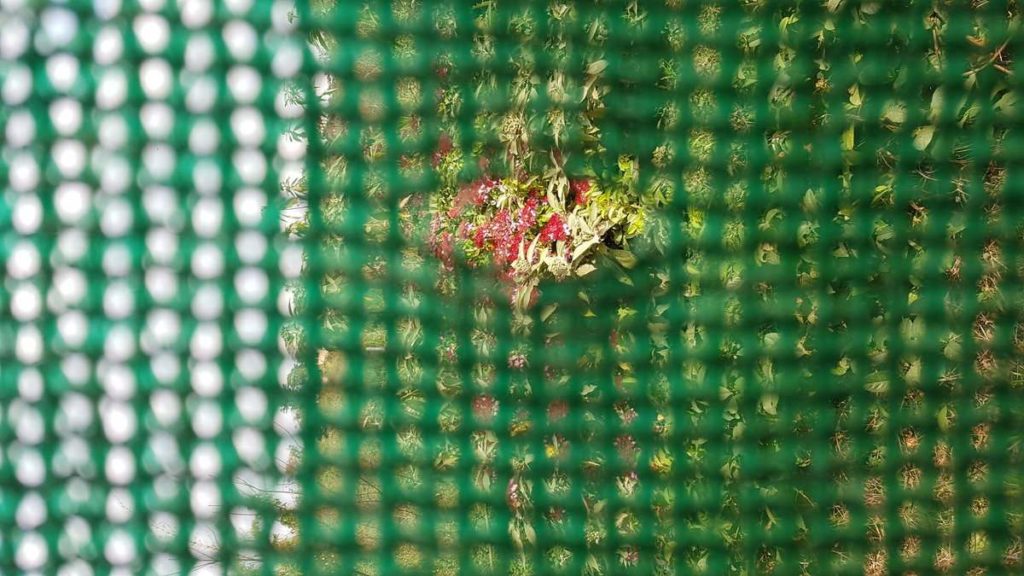 An important element to Coral's work involves the re-imagining of spaces. This site, an almost neglected space, was chosen as the birthplace for this body of work, which develops over a 9-month period and which began in mid-August, 2019 . The work is created predominantly from discarded plastic retrieved from industrial sites, refuse bins and the beaches along Durban's coast.
This body of work develops outside of pristine studio and Euro-acceptable white cubed gallery spaces, finding its way and its source among the plants, refuse area and open-air space. The work questions, struggles with, owns, negates, affirms, refutes, deconstructs, reconstructs, re-frames herself/itself, 'the self' to emerge as the self it wants to be. One element, one person – an element of the humanity she questions. The work attempts to find a new vision: through dreams and dreaming into other spaces and times; emerging with a vision for her present and future self that may be beyond the colonial presence. It challenges the world view as we've always known it – since the few hundred years past known it – to emerge with a re-created world view that takes a bit of this and a bit of that – an African world view which is sought so desperately – re-imagined and regained and evolved. She explores conditioning and consciousness, awareness of power and authority and towards the end, finds solace in a return to innocence, cocooned in a belief that one day we may find answers.
Click to view the full set of images for this project.