How does one reflect on the process of creating an artbook that has had numerous interventions, engagements, opinions and a plethora of creative inserts? Dynamic. The push and pull of creativity. Alchemic interactions and finally a few 'show up' and commit to completing 'the process'. This can certainly be said of the visual work that formed the heart of the artbook and which relied on the completion of the Dreams as R-evolution installation before the images could appear in the book: it relied on silent and alone work during the national lockdown before the conclusion of its (the installation) final (ninth) month of making; it relied on the final edit of the 365 word pieces and essays written from different perspectives by the team who continued to engage on issues during and after lockdown. Each one unique. Each one engaged with the concept – Dreams as R-evolution – from the perspective of their own 'making'. Commencing the project after funding was finally provided by the NIHSS in 2019 and concluding in 2020 during lockdown with less than a year to conclude this mammoth task, said little about the nature of creativity and time and dreaming. It must be said that 'the project' continues still even beyond the book… It continues beyond the first and second and even third utterances. The project in conversation continues even today. The 'product' as an artbook had much to do with funding deadlines and adherence to time frames, excellence in creativity and hard work. It had to do with professional courtesy and commitment to a very tight process, which we acknowledge; it had to do with each other and the concept of dreaming as a r-evolutionary act … "despite and in-spite of". Ideally we would like to have all the time in the world to speak into this process, but milestones (the language of projects) have their roles to play i suppose as we are living in this world of budgets and fixed times. (sic) Nonetheless, the work as we saw it, is complete in this singular step. Recruiting a 'new' editor at the last minute – thank you Ashraf Jamal – and designer, Sven Christian helped pull it together via late night Zoom arguments and discussions, not having met him before 'in real life'..."let the artwork breathe" was the repeated utterance from Jamal while extracting the endless paragraphs written by the artist (ME), shaming me into submission – as one who insists on referring to importance of 'a visual language', but who felt compelled to academicize the work….I am grateful to his insistence on that score (see the artbook for yourself) . The artbook, as described by Malika Ndlovu – a contributor, "These are dreamseeds" ; and by Diana Ferrus, "the story grows,…the story grows…" And so it does.
Biographies
Meet the final group of contributors – from the artist to the storyteller, poets, scientist and musicians ….and the work they do. and hear what they have had to say ….
Coral Bijoux
Artist, and contributor (curator, educator, ….)
"To undo this conditioning is a difficult, dangerous and delicate operation. You may discover that there's nothing there to find-nothing that you want or recognise – and you may find that you'd rather stay enslaved, because the alternative is just too painful."
– excerpt, main narrative, Dreams as R-evolution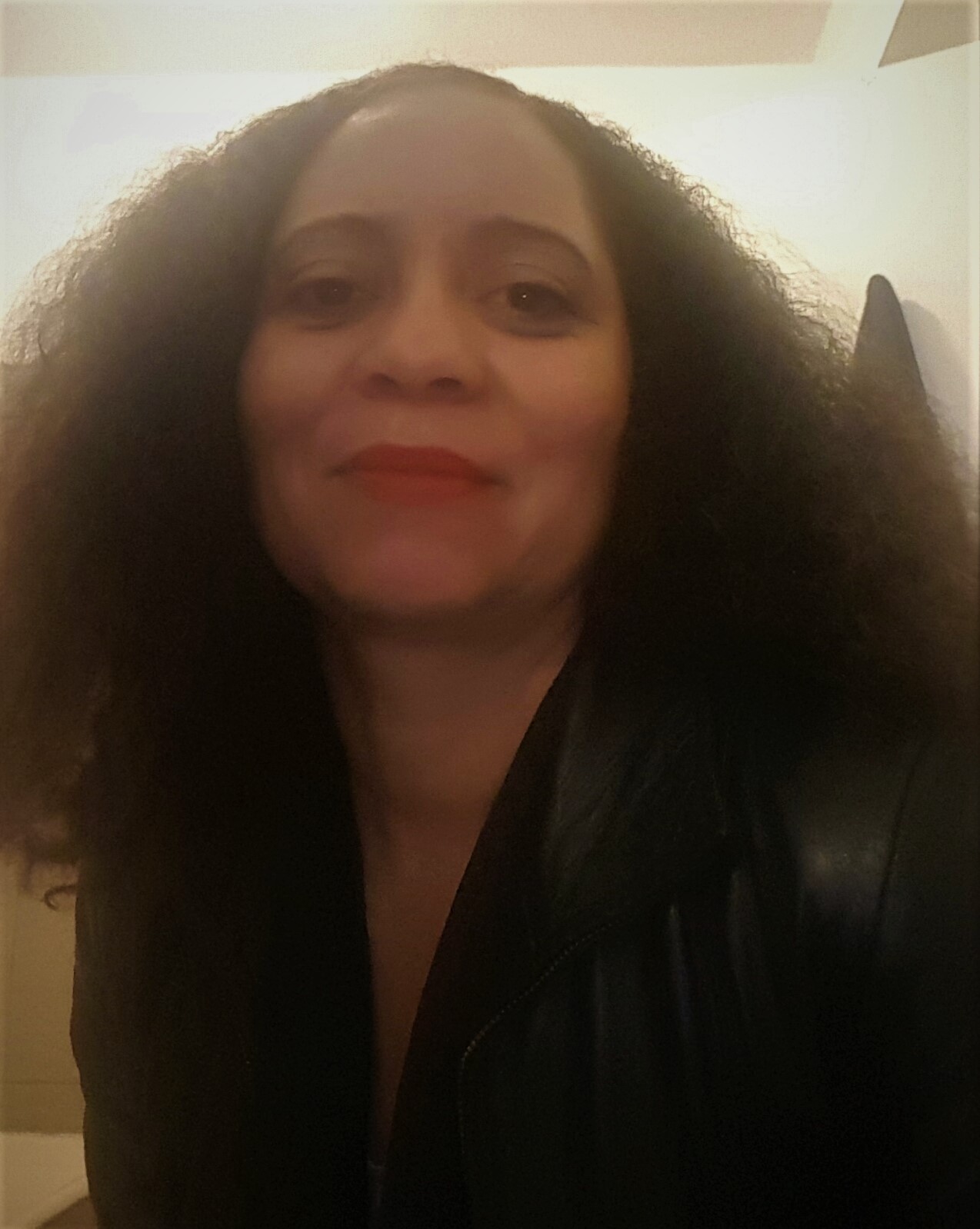 Coral Bijoux is a curator and artist with a background in education, skills development, heritage and museology. Her collective career spans more than 27 years in development work, arts education; organisation practise; heritage and tourism, research and writing; archival development and museology.
She engaged the rural-urban discourse through her work on the iSimangaliso Art Programme, which she initiated while working at the iSimangaliso Wetland Park. She has developed the Voices of Women Museum – (www.amazwi-voicesofwomen.com) conserving the collection of 3000 pieces and curating the exhibition series, Conversations We Do Not Have, which installed thus far 5 exhibitions in 4 provinces and recently curated, Dreams, Wishes and Expectations. As part of a small team, she worked on the development of the National Art Bank project and developed exhibits, as well as publishing and other creative projects for the Mazisi Kunene Foundation and Museum.
For the past 10 years, she has engaged her own art practise and was selected as a finalist for her installation concept for the National Language Museum in Grahamstown, 2015. She works in multi-media 2-dimensional forms and has extended her work to include sculptural forms and installation. Her body of work considers a re-powered, reframed sense of self within the South African transitional context. Her recent work draws attention to one's humanity with attention on the nature of dreams to repower oneself, using throw away material like discarded plastic to emphasize this consciousness. The latest curatorial concept and art installation in plastic, situated in a plant nursey engages the 'space as context', art and environment and is a conceptual statement of this intention.
THOLAKELE MDAKANE is recognized for her support and assistance in the Dreams as R-evolution installation. As an established master crafter and artist, mostly using the medium of embroidery, she has been able to take care of her family for many years through her work. She is dedicated to the Shembe Church as evidenced in her work below and prefers a traditional way of life believing this to be a way of grounding oneself in an identity that was once denied through apartheid ideologies.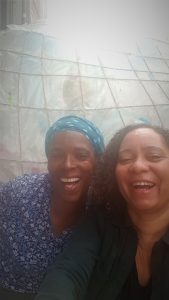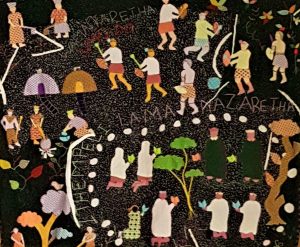 Prof Rozena Maart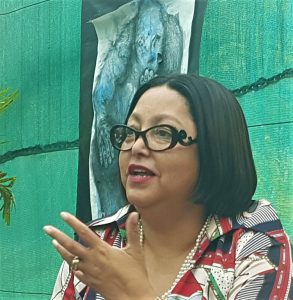 Prof. Rozena Maart initially participated as initial editor on the Dreams as R-evolution artbook. She is a scholar and researcher who works between and among Political Philosophy, Black Consciousness, psychoanalysis, Critical Race, Theory and Derridean deconstruction. She joined the University of KwaZulu-Natal in Durban in 2011.A former member of the Biko, Rodney, Malcolm Coalition in Toronto, Canada, Prof. Maart is the winner of "The Journey Prize: Best Short Fiction in Canada, 1992," the a recipient of the William R. Jones award, which is a lifetime achievement award for philosophy and was recently appointed as an International Research Ambassador for the University of Bremen in Germany.
Ashraf Jamal
Editor and contributor of Orphan Nursery essay (art critic, art writer, philosopher, nurturer,…)
"We allowed the artist to breathe. It was a decision to take that weight (of the long essay) …and to balance everything else…it was a distribution of the Dreams as R-evolution story throughout the book. It exists as an organism. The editorial decision was to deliberately situate the introduction rather as a summation at the end. I wanted the whole thing to be alive. To be itself – in terms of reflecting on the work."
– Comment by Editor, Dreams as R-evolution artbook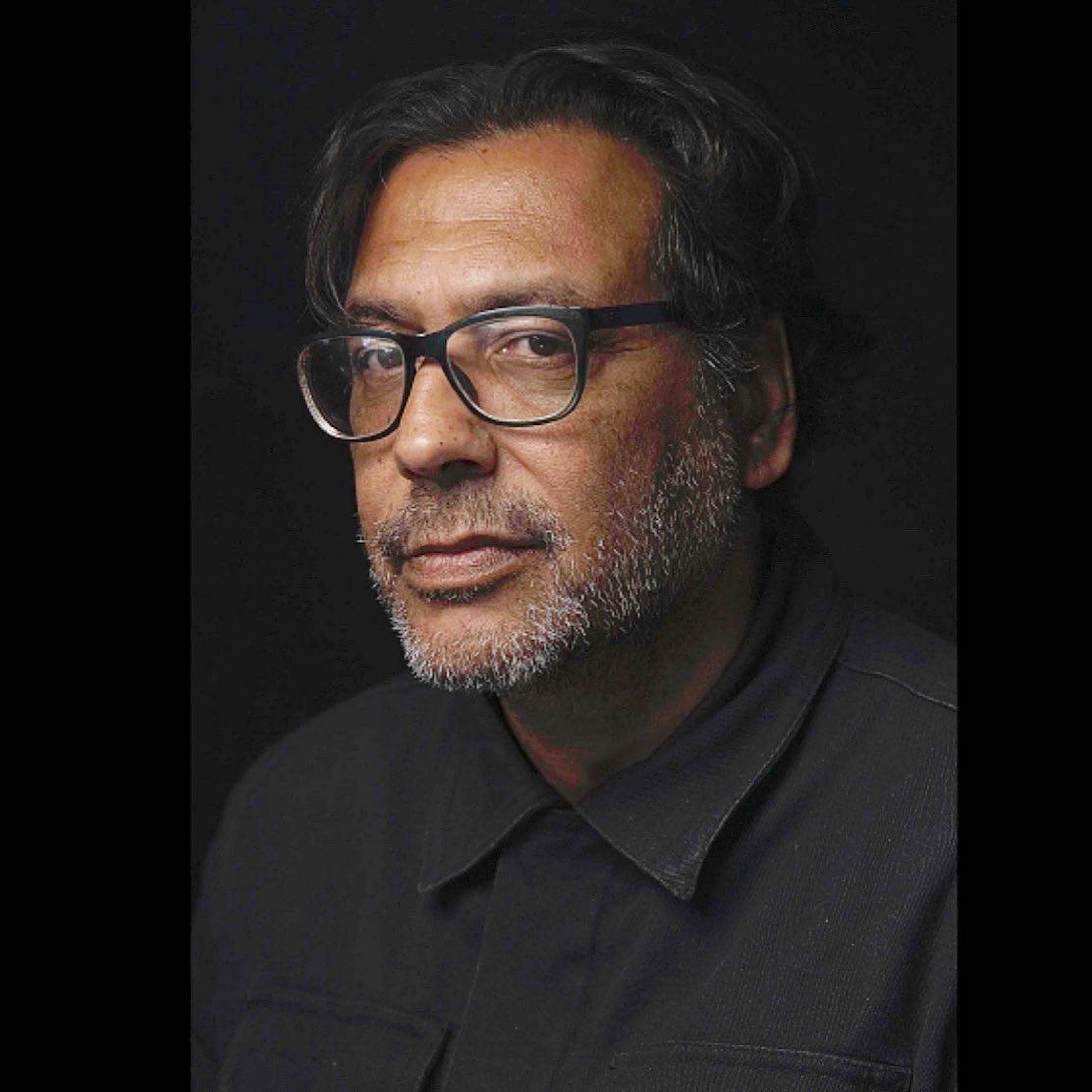 Ashraf Jamal lives and breathes – for now – in Cape Town. He is the co-author of two children, Sahar (22) and Mira-Jaan (18), and the adopted parent of a small black dog of nameless breed and indefinable age. The epigraph of his forthcoming book – WWTAWWTAA (what we talk about when we talk about art) – comes from Wittgenstein: 'I did not get my picture of the world by satisfying myself of its correctness; nor do I have it because I am satisfied of its correctness.' He is a writer, editor, public speaker, and journalist. Jamal is the co-author of Art in South Africa: The Future Present (David Philip Publishers), the co-editor of Indian Ocean Studies: Social, Cultural, and Political Perspectives (Routledge), former academic who has taught at the Universities of Cape Town, Natal, Stellenbosch, Malaya, Eastern Mediterranean, Rhodes, and Cepe Peninsula University of Technology, where, for his sins, he spent 8 years committed to a change that still remains remote.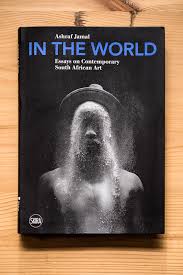 He is also the former editor of Art South Africa and Art Africa. Jamal is also the author of Love themes for the wilderness (Kwela Books), The Shades (Brevitas), Predicaments of culture in South Africa (UNISA/Brill), and In the World: Essays on Contemporary South Art (SKIRA). He's work, Strange Cargo: Essays on Art (forthcoming), includes his essay on the Dreams as R-evolution titled, Orphan Nursery.
Jamal was shortlisted for the MNET Prize and has won the Sanlam Prize. His presence on the internet is by default. He is contactable at – ashraf.jamal59@gmail.com – should anyone require his services as pole dancer, writer, dog walker.
Sven Christian
Designer (and artist. writer) who produced his own hand-cut font as a reflection of the art installation
"…So the -Z- has a snake in it, the -H- is like the skeleton of a fish (the Telaphia which was created as part of the Filler Series); some of the little figures was me thinking about those faces in The Room for AlterEgo."
– comment by designer (about the font) Dreams as R-evolution artbook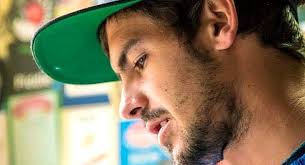 Sven is an independent writer, editor, and curator. He is the editor of Ashraf Jamal's upcoming book, Strange Cargo: Essays on Art (2021); co-editor of Why Should I Hesitate: Putting Drawings to Work (Zeitz MOCAA: 2019); and co-editor of Five Bhobh: Painting at the End of an Era (Zeitz MOCAA: 2018).
In 2019, he completed an MA in Contemporary Curatorial Practices at the University of the Witwatersrand, which focused on the curation of Dumile Feni's scroll, and took part in ICI's Curatorial Intensive in Cape Town. Between 2017 and 2018 Sven was enrolled in the Zeitz MOCAA Curatorial Training Programme. During this time he assisted with the museum's opening exhibitions, managed the production of Edson Chagas' Luanda, Encyclopaedic City (curated by Paula Nascimento and Stefano Rabolli Pansera), and was the organising curator of Publishing Against the Grain, a travelling exhibition conceived and produced by ICI, New York, which opened at Zeitz MOCAA in November 2017 before travelling to CCA, Lagos.
Between 2015 and 2017 he was the assistant editor at ART AFRICA magazine. Prior to that he founded Ism-Skism, an ongoing artist-led initiative that encourages participants to produce work in the public domain. He also holds a Bachelor of Fine Art from Rhodes University (2008–11).
Malika Ndlovu
Creative Contributor of her 365 word piece, Embedded yet Unbound in the Dreams as R-evolution, (poet, writer, performance, education…)
"Suspended between dream and memory

A chain to the knotted past, a pain somehow

Always penetrating the folds of this story

The audible and the inextricable untold. "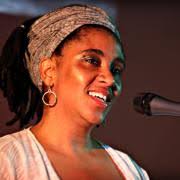 Malika Ndlovu is a South African poet who has performed her work across the globe. With a background in both theatre and arts management Ndlovu is a prolific creative facilitator, working with numerous visual artists, culture organizations, heritage institutions and NGOs, tirelessly promoting the written and spoken word. Her projects include the Cape Town women writer's collective WEAVE, And The World Was Women Ensemble of female performance poets, and The Mother tongue theatre project, which exists to promote the wellbeing of women and the young through art. These endeavours embody her belief that 'creativity is medicine to us all – whether we access this to produce great art for the public or to heal and grow ourselves, to honour our humanity'.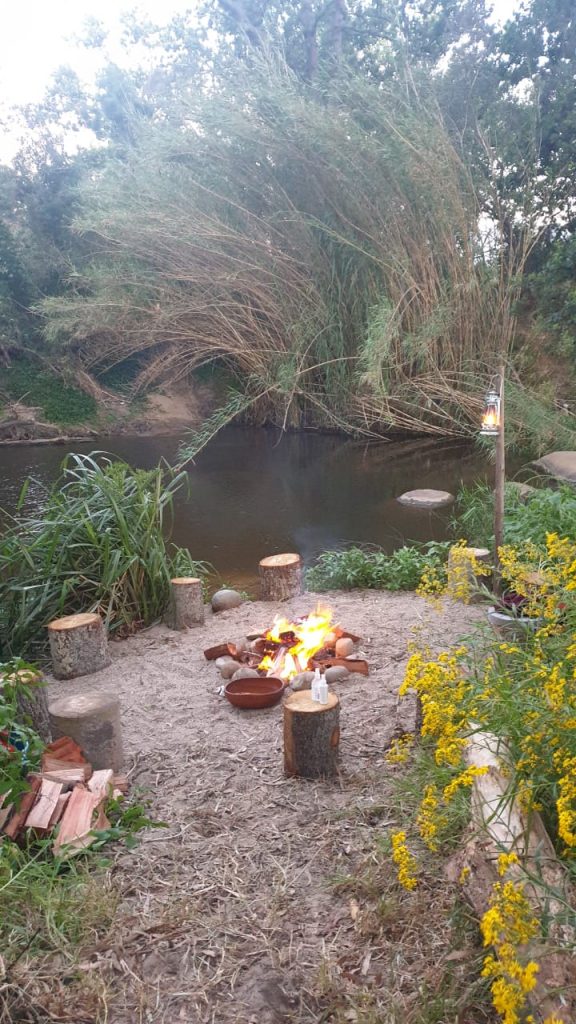 André Croucamp
Creative Contributor (and educational resource developer; science writer…)
"This is a new beginning, but not a fresh start…Dissatisfied with the energy available in the natural cycles of its time, mankind extracted ancient sunlight trapped in fossils to indulge its insatiable greed…"
– excerpt, Junk Status, Dreams as R-evolution artbook.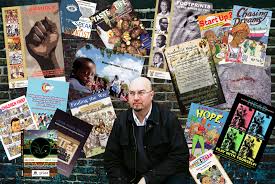 An activist and educational media developer, who is and assisting schools with critical thinking skills training and project-based learning through his company, MindBurst Workshop and working in the heritage sector as part of Totem Media to develop exhibitions for museums and heritage sites. (For more information about Andre, go to www.mindburstwork.com )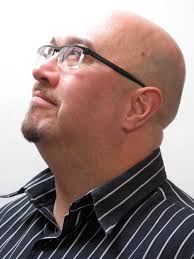 Usha Seejarim
Creative Contributor (and contemporary artist)
"She is Chimera: a fire-breathing female monster with a lion's head, a goat's body and a serpent's tails. Her mission is wildly imaginative, implausible. It is an illusory hope."
– excerpt, Six Years of Dreaming, Dreams as R-evolution.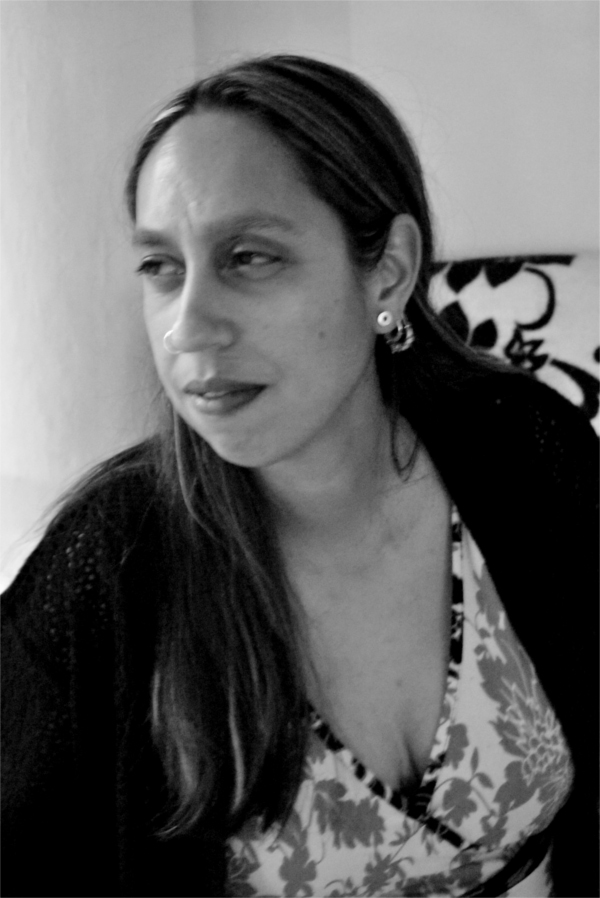 Usha Seejarim was born in 1974 in Bethal, South Africa. Seejarim received a B-Tech Degree in Fine Art from the University of Johannesburg in 1999 and a Master's Degree in Fine Art at the University of The Witwatersrand (WITS) in 2008 – both in Johannesburg, South Africa, where she currently lives and works. She has had several solo exhibitions and has participated in various group exhibitions and art projects locally and internationally. She works in a variety of media including video, photography, installation and printmaking. In 2001, Seejarim was a co-winner of the MTN New Contemporaries Award and, in 2003, she was the recipient of an Ampersand Fellowship, which took her to New York City.
In 2018, Seejarim was the recipient of the prestigious Dak'Art Biennale Sculpture Prize in Dakar, Senegal; and was awarded the Tomorrow's/Today Prize for her installation, Keepers of the Common, at the 2018 Investec Cape Town Art Fair, in Cape Town, South Africa. Seejarim also presented an artist talk on Mistress Pieces: Iconic Artworks by Feminists and Gender Activists at the University of Johannesburg, in Johannesburg, South Africa. Seejarim was also selected to partake in an exhibition celebrating 40 years of the Federated Union of Black Artists (FUBA) at the Keyes Art Mile in Johannesburg, South Africa. Most recently, Seejarim's work was exhibited as part of The Art of Lithography: A Collaborative Expression of LL Editions which ran until January 2019 at the Wits Art Museum; and at the 2019 Investec Cape town Art Fair with SMAC Gallery.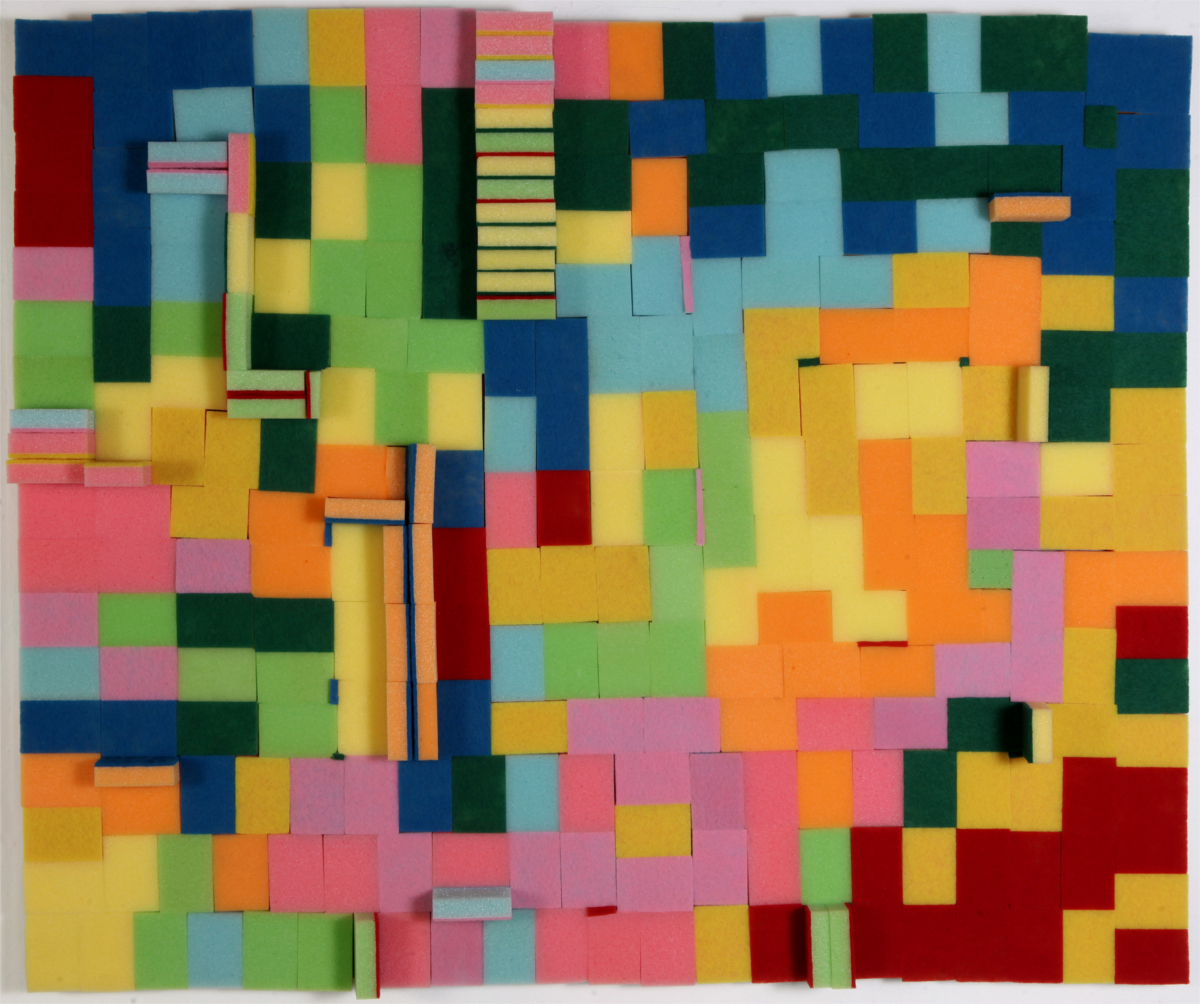 Tracy Lee Easthorpe
Creative Contributor and children's storybook writer)
"I've walked through the darkness

With my dreams on a harness

As I found the light in me

All dreams were set free"
– excerpt, I've Walked Through The Darkness, Dreams as R-evolution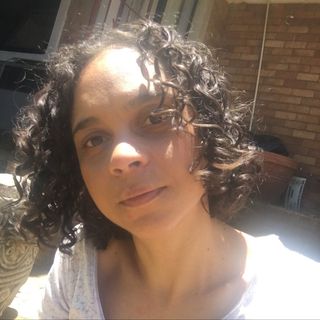 The latest addition to children's book authors in South Africa. She lives in Johannesburg and is an accountant by day. She has a passion for creating a curiosity for words and igniting the imagination of young minds through reading.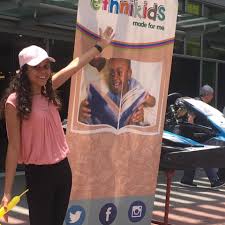 Pralini Naidoo
Creative Contributor (and poet, writer, designer, ..)
"Blacking out, coming back – several times. Each time, a montage of movement – a cacophony of hungry monkeys, the flick of scaly reptilian tails, a scurry of anxious mongoose."
– excerpt, Future Ancestor, Dreams as R-evolution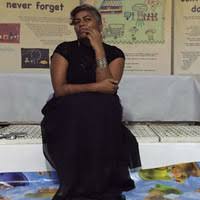 Pralini Naidoo is a Phd candidate in her third year of study at the University of the Western Cape (Dept of women and gender) Her work is focussed on tracing narratives of women and seed and tehri complex relationship. Having begun her postgraduate journey in English studies, with a module in creative writing, Pralini remains passionate about the intersections of social sciences and the creative arts. Pralini has published creative feature articles and some poetry in various publications. She is currently working towards publishing an anthology of poems and prose.
Diana Ferrus
Creative Contributor (and writer, poet, performer, activist, …)
"En die aarde antwoord in woede

spoel met krag oor elke leuen

verdwerg die valse voorbeeld

wat glo ontwikkeling steun…"
– excerpt, 'n Blom sal Ontluik, Dreams as R-evolution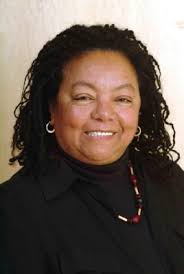 Diana Ferrus (born 29 August 1953, Worcester, Western Cape) is a South African writer, poet and storyteller of mixed Khoisan and slave ancestry. Her work is published in Afrikaans and English. Ferrus leads writing workshops in Cape Town while working as an administrator at the University of the Western Cape.[1]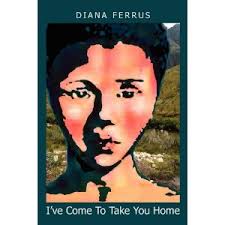 Ferrus is best known for her poem about Sarah Baartman, a South African woman taken to Europe under false pretenses and paraded as a curiosity.[2] She wrote the poem in 1998 while studying at Utrecht University.[3][4] The popularity of this poem is widely believed to be responsible for the return of Bartmann's remains to South Africa.[5] The poem was published into a French law.[6]
Ferrus is a founder of the Afrikaans Skrywersvereniging (ASV), Bush Poets, and Women in Xchains.[7] She has a publishing company called Diana Ferrus Publishers and has co-edited and published a collection of stories about fathers and daughters.
Himansu (Snowy) Baijnath
Creative Contributor (and Life Sciences professor, writer, lecturer, …)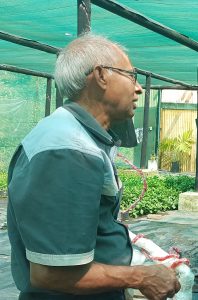 "Human curiosity continues to push the limits of scientific investigation, using a multi-focused investigative procedure to understand and reveal the truth."
– excerpt, Bio-illuminating Bilirubin, Dreams as R-evolution
Prof Himansu Baijnath is an Honorary Research Professor and Senior Research Associate in the School of Biological and Conservation Sciences at the University of KwaZulu-Natal. He joined the staff of the University of Durban-Westville (now University of KwaZulu-Natal) and served as curator of its Ward Herbarium for 20 years. He has authored more than 80 publications and is particularly interested in the biosystematics of higher plants. He was awarded the accolade of eThekwini Living Legend in 2012. He is an active researcher and supervisor of postgraduate students and a member of the Academy of Science of South Africa (ASSAf). His fields of Expertise are on Plant Taxonomy, Biodiversity, Plant Biology, Plant-Animal Interactions, Medicinal Plants, and Food Plants.
Salim Washington
Creative Contributor (and musician, Dean (music Dept. – UKZN) lecturer , performer, …)
https://www.salimwashington.com
"These dreams are from the subaltern vantage point. In a sense, they are pleas for revolution. Perhaps they are a plea for our natural evolution, to be kinder to children and women in particular, but also to all humanity"
– excerpt from comment and reflection by Salim for his music piece in The Door of No Return, Dreams as R-evolution
Find The Door of No Return piece here.
Prof Salim Washington and band Ubizo developed The Door of No Return as a reflection of the Dreams as R-evolution, just days before the national Covid Lockdown – an exercise in commitment by him and his students!
Ubizo band members include Salim Washington, Sibusiso Shabalala, Kabelo Mokhatla, Tseleng Mokhatla, Giyani Shangase and Kgethi Nkotsi, with Sihle Mkhize as sound engineer.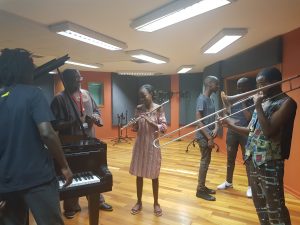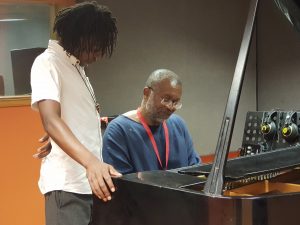 The story of jazz saxophonist-composer-scholar-activist Salim Washington paints a harlequin voyage in search of one's roots. His parents were born and raised in the sharecropper plantations of Mississippi, met in Caperville, Tennessee, got married and moved to Detroit with hopes of a better life. His mother sewed at the Levi's Jeans factory, and his father worked in construction and labor jobs. Although his mother prematurely passed away when he was twenty-one, Salim has careful memories of a selfless, courageous spirit who was fearless for her family. The gracious resilience of his father, who persevered to complete his education while working and raising a family, gave Salim the inspiration that he would later follow.
As the first generation in his family to be born outside of the plantations, Salim was born in the housing projects in Memphis, Tennesee. The narrative of Salim's exposure to music is a remarkable one. When his family moved to Detroit, they lived in the notorious "Black Bottom" area during the 1960-70's Detroit riots. As a young boy in what he calls "one of the most violent neighborhoods in Detroit", he was drafted into the neighborhood gang at the age of 9. The leader of the gang played the trumpet and, having a soft spot for this young boy, goaded him into learning to play. Salim became very proficient, even surpassing the leader. Noticing the boy's potential, the leader excused him from the gang. Salim credits this gang leader to introducing him to the trumpet, his first musical instrument.
The defining moment came in the 1970s after hearing John Coltrane in Exotica (Call Sonny) and Miles and Monk at Newport; "It was the most powerful, most intelligent and beautiful thing I have ever heard. It was about me and my experience in a much more elevated form than anything I have heard…it changed everything." This stirred him to buy a saxophone with money from odd jobs. Salim was enlightened with the intelligence in Coltrane's music, which also triggered the passion and emotion that he gets from church music and songs like Curtis Mayfield's Superfly. Often demoralized by teachers for his musical ideas and afflicted by racial and social discrimination in school, this was the much-needed affirmation to pursue music.
Salim first entered Harvard in 1976 and subsequently dropped out to become a jazz musician. Over the next few years, he played in many towns and cities with several bands, including a traveling Chitlin circuit group. He also expanded into political activism, organizing protests against drug dealers in Roxbury, as well as working on support for the anti-Bakke decision and the Disinvestment movement from South Africa. He finally returned to Harvard in 1993 and completed his PhD in 2000, while still remaining active as a performer, writer, activist and family man.
For Salim, the fascination with South Africa has been longstanding. It began with Gil Scott-Heron's hit record, Johannesburg, about the aftermath of the 1976 riots in Soweto. The struggle was led by South African teenagers, and what impressed Salim was the physical resemblance with African Americans. As he investigated further, he found similarities in their culture, as well as in their social and political histories. Later he was introduced to the music of Chris McGregor, and learned more about South African jazz musicians in exile, such as Dudu Pukwana, Mongezi Feza, Johnny Dyani and many others; "I was just flabbergasted that there was a place where people played jazz at that advanced level." He felt a visceral connection to this place, and hoped that one day he would make his way there to be closer to his roots, culture and people.
It would take thirty-three years until Salim's first visit to South Africa, when he was invited to teach at the University of KwaZulu-Natal (UKZN) in 2009. After returning to New York, he spent the next few years actively performing, writing and teaching while continuing to make visits to South Africa. In 2013, he became a full-time professor in the Music Department at UKZN. "This feels like home," he reflects, "This is home. I am home." (Biography courtesy of The Orbit.co.za)
Salim continues to be a committed teacher, writer, speaker and performer in numerous solo, group and ensemble projects. He is also touring with the Eco-Music Big Band, a jazz ensemble mixing the music of Fred Ho and Cal Massey with political aspects. When he first met Fred Ho at Harvard in 1976, the two instantly became good friends, political comrades and musical collaborators. The two crossed paths again in 2000 when Fred reached out and asked Salim to join his Afro-Asian Music Ensemble. The pair would go on working together, playing and giving lectures as a scientific duo in numerous events. In 2012, they started the Scientific Soul Sessions, a collective for revolutionaries to build a soulful and scientific community. The Eco-Music Big Band is one of the many progenies from this effort of using art to inform politics and vice versa.