Supported by the National Arts Council and the Human Elephant Foundation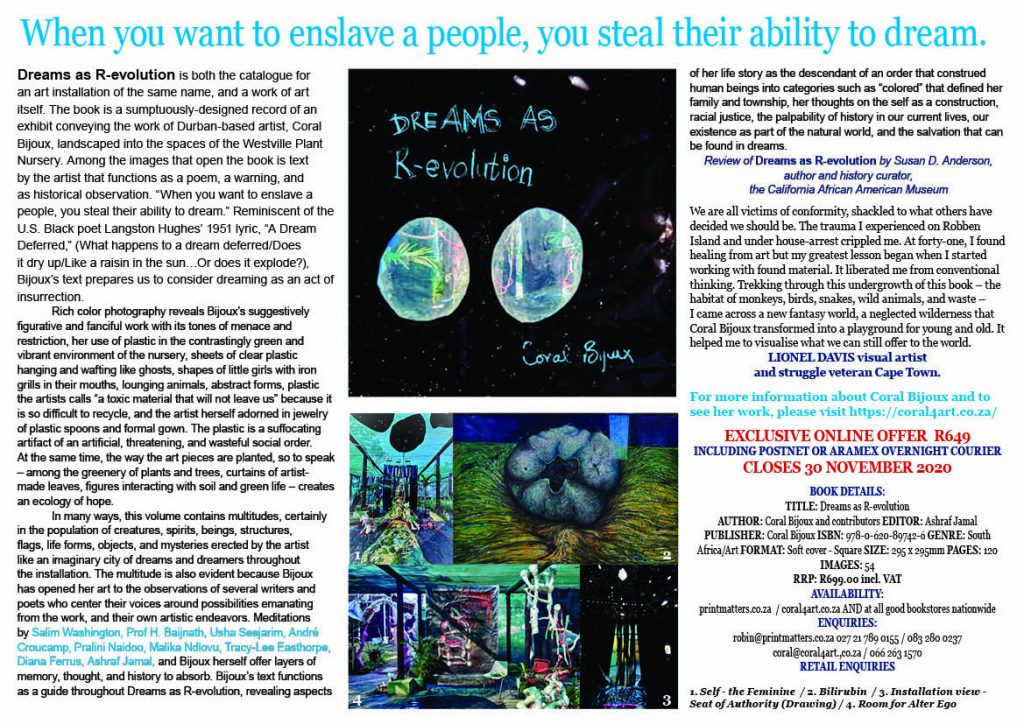 Music written for the Dreams as R-evolution installation by Salim Washington and UZIBO
How uncanny is it that I began writing about this Dreams as R-evolution concept – the installation and artbook more than 2 years ago. 
Now, my 9-month installation process has been stalled by the virus-i-do-not-want-to-mention, 2-3 weeks before I was due to complete. The Dreams as R-evolution asks whether we are able to proactively change what we need to change (and this is open to debate); or whether we will be forced to by the sheer force of an external factor? At the time I wrote this, I imagined a tsunami or earthquake; a comet or a world war…
———–
The findings in the form of this installation and its photographic documentation (by Roger Jardine), essays and creative contributions (Prof R. Maart; Coral Bijoux-the artist; Malika Ndlovu; Usha Seejarim; Tracy-Lee Easthorpe; Pralini Naidoo; AndreCroucamp; Prof S. Washington and his band, Ubizo; Diana Ferrus; Obakeng Thamage; Prof. H. Baijnath) will be published in an artbook by Print Matters Heritage and is funded by the NIHSS. 
Installation assistance by Tholakele Mdakane and site support by the UKZN Westville Nursery team. 
The installation has been funded and supported by the National Arts Council; the HEF and 'in kind' by UKZN.  
——-
This body of work, invites you into its making process. It invites you to engage as I have, the natural elements; the artmaking; the growing and the dying within that space while I extract and immerse myself into a dream that may provide answers. 
The installation includes four key elements which have been loosely associated under the following sub-topics of Space; SELF; Authority/Power and Innocence (return of)  
These images are process works, which will evolve into the final piece /installation after lock down. It by no means constitutes the entire body of work at the site (Westville campus plant nursery, UKZN). During this period, the installation has been open to the public on Fridays while the artist works. There have also been presentations, talks and  workshops conducted by the artist on the topic.
The process continues to unfold and as with all dreams that hover in the hypnagogic state, I continue to dream;… unfolding further elements in a small, small space, away from my site,  until lock down is over…